Google never disappoint its users and always try to come up with new updates and features to facilitate users with the latest updates. Nowadays, people are fond of playing the Google word coach quiz game. It is a free tool for users, and the amazing thing about this game is that users can enhance their vocabulary and English in a fun way. In today's blog, we'll share information on Google word coach, how it is played, how to open it and much more. Let's get started:
What is Google Word Coach Game?
In February 2018, Google launched Google Word Coach for non-native English speakers. If you have always wanted to improve your English and vocabulary but haven't found the best and most fun medium, then you may be surprised to know that you can have a good command of the English language by playing a game. Yes, you've heard it right! You can learn new words in English by playing the Google word coach quiz online.
After completing each level, you will come to know more new words. Previously, we had to flip pages of a dictionary to find a single word, but now, by writing a few letters, Google suggests us complete word, and we can get knowledge regarding a particular word with a single click without flipping a number of pages of the dictionary.
What is Google Word Coach in Hindi?
फरवरी 2018 में, Google ने गैर-देशी अंग्रेजी बोलने वालों के लिए Google Word कोच लॉन्च किया। यदि आप हमेशा अपनी अंग्रेजी और शब्दावली में सुधार करना चाहते हैं, लेकिन सबसे अच्छा और सबसे मजेदार माध्यम नहीं मिला है, तो आपको यह जानकर आश्चर्य हो सकता है कि आप एक गेम खेलकर अंग्रेजी भाषा पर अच्छी पकड़ बना सकते हैं।
How to Open Google Word Coach?
All you need to follow a few instructions, such as: open Google's Chrome browser on your mobile phone to search for words. Let's say, you search for 'meaning of teacher' then it will show you some results in a small box. If you are not sure about the given words, then you skip it, and the next question will appear in front of you. When you select the right answer, then you will earn some points as a reward. If you close the browser, then your score will be lost, and again, you have to start from scratch. When you play this game, then you'll have the following types of questions:
Which word is similar to..
Which word is opposite of..
Which image best fits the word…
What's shown in this image
Take a look at the below section to know how to open google word coach and play this game: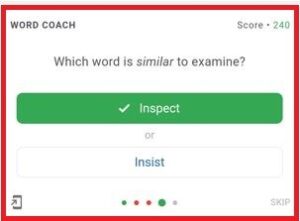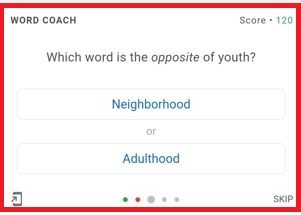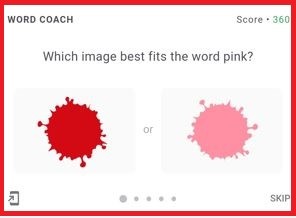 How Many Levels are there in Word Coach?
Right now, the google word coach quiz game has two levels. After playing a few levels, you will see a level-up button. When you enter a second level, then there will be no endpoint. You can continue to play the game as often as you like. You will enter advanced levels after giving accurate answers in the level 1 quiz. The difficulty level of the game will increase as you clear each round one after the other.
What is Google Word Coach Highest Score?
It can't be said what the exact highest score on the word coach google test is. However, Anshul Gawande has made the highest score, and that is 600360.
How to Add Google Word Coach Shortcut Icon to Your Device?
By giving a Google word coach test, one can enhance his/her vocabulary. It is a fun game to learn English. Basically, it works on smartphones and doesn't work on laptops or computers. When you play this game, then you'll see a message about adding a shortcut icon of word coach on the home screen of your mobile.
Google coach word has been offering a home screen icon for smartphone users. When you play this game, then you add it to your mobile home screen to access this game anytime, anywhere.
Is there any Google Word Coach App?
There are numerous apps available that can enhance your vocabulary, but if you are looking for a Google word coach offline app, then it is sad news that it is not available in the form of an app. However, maybe in the future, Google may announce an app to help you improve your English skills.
How to Play Google Coach Word Game?
All you need to do is, search any word on Google's Chrome browser or you can type 'Google Word Coach' in the browser. However, it only opens on smartphones. When you search for the meaning of something, then a small box will appear in front of you. In every question, there will be two options given to you. You have to choose the right answer. If you choose the wrong answer, then it will show you the right answer. Most likely, the questions will be related to opposite words, and similar words, and sometimes you will be given pictures to choose the right one. If you give wrong answers, then there will be no negative marking. The quiz will be in English, so the google word coach quiz in Hindi is not available.
Wrapping Up
The blog shares information on word coach, so if you want to improve your English or vocabulary, then you can play this game. You can play this game without paying anything. It means you can learn English without paying single penny.